Women's History Month is the perfect time to reflect and honor women's social, economic, cultural, and political achievements. Constantly fighting to combat the ever-present social injustices against them, women now make up a significant portion of business executives in all sectors. According to an American Express-sponsored survey from 2018, women own 40% of all businesses, with a strong presence in the lifestyle industry.
Make no mistake, there's still so much more work to be done to ensure equity exists within our industry. But, the cannabis industry has provided many opportunities for female entrepreneurs to thrive, especially with the ever-increasing demand for progressive products and brands. Without further ado, here are 10 women-owned cannabis brands we love and are honored to carry at The Higher Path.
LEUNE

LEUNE believes that being in the cannabis industry comes with a platform – an ability to use their voice and help bring awareness to social injustice and inspire true, positive change.
Over the years, LEUNE has partnered with social justice projects such as the Floret Coalition and the Last Prisoner Project. As LEUNE puts it, "There is a mountain of work to be done, and beyond the fad buzzwords and headlines of the week, we're here for as long as it takes." Learn more about LEUNE here.
LEUNE makes some of the smoothest pre-rolls and disposable vapes we carry at THP!
  2:1 Pina Day Dream Disposable – This CBD-dominant disposable is the perfect day-time companion for relieving anxiety. All proceeds from this product go towards the Last Prisoner Project.
CloudBerry Infused Pre-roll – This pre-roll brings the very best of highs, with potent, California-grown flower. Best enjoyed as an evening smoke.
Desert Gold Pax Pod – This PAX pod is a great on-the-go daytime vape pod. With a Hybrid-Sativa profile, the strain offers great creative feels and uplifted spirits.
MISS GRASS
Miss Grass is on a mission to help the world get good weed. They create products around 3 standards: clean, trusted, and effective. "It's all about your power to vote with your dollars, to support and nurture an equitable industry, and to eradicate the stigma around this plant. It's about making cannabis accessible to everybody. Welcome to the high road."
Miss Grass also participates in social initiatives such as the Last Prisoner Project, Trans Lifeline, and Cage-Free Cannabis. Read more on Miss Grass here.
They are one of the few companies we carry that show the terpenes present in their pre-rolls. This helps us know exactly how we can feel, and guide us.
Fast Times 5-Pack: This adorable pre-roll is an inspiring flower blend meant for opening your spirit, getting things done, and moving along. Wonderful for daytime use.
Quiet Times 5-Pack: Enriched with the soothing caryophyllene, Quiet Times is relaxed but not sluggish; dreamy but not spaced-out. Just soothing, weightless, and super serene.
All Times 5-Pack: This 1:1 pre-roll offers​ a grounded high you can control. It's energetic without being frenzied; chill without being a dud. Your mind and body feel at one.
DREAMT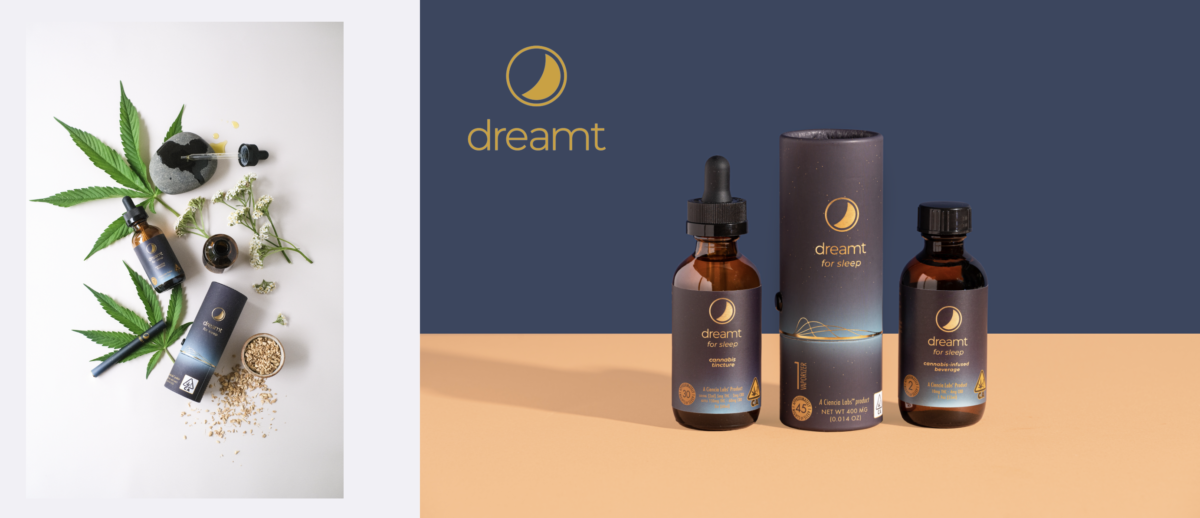 Founded by a nationally recognized cannabis scientist, Carolina Vasquez Mitchell, and her best friend, Dr. Jannise Babbush (Ph.D. in Inorganic Chemistry). Both founded dreamt, a company designed to offer a good night's sleep in all forms. Dreamt is the first brand from​ Ciencia Labs​, a Los Angeles-based house of cannabis brands designed to address common health problems. Ciencia Labs is a women & minority-owned company. Learn more about dreamt here.
Dreamt Gummies – These gummies have 5 mg of THC per piece, and have no melatonin, which is surprising for sleep gummies! However, they work like a charm and are great for deep sleep and REM sleep.
Dreamt Disposable Vape – This compact vape pen has the fastest onset and was named 'Best New Product' at Weedcon 2020. It will offer a great night's sleep and will leave you feeling fresh the next morning.
Dreamt 2 Dose shot – Dreamt's shot is designed for those with ongoing sleep problems that want something discrete and easy to dose. With exactly 2 doses, this low-priced drink is great for trying Dreamt's amazing product before buying a tincture or pen.
MY BEST BUD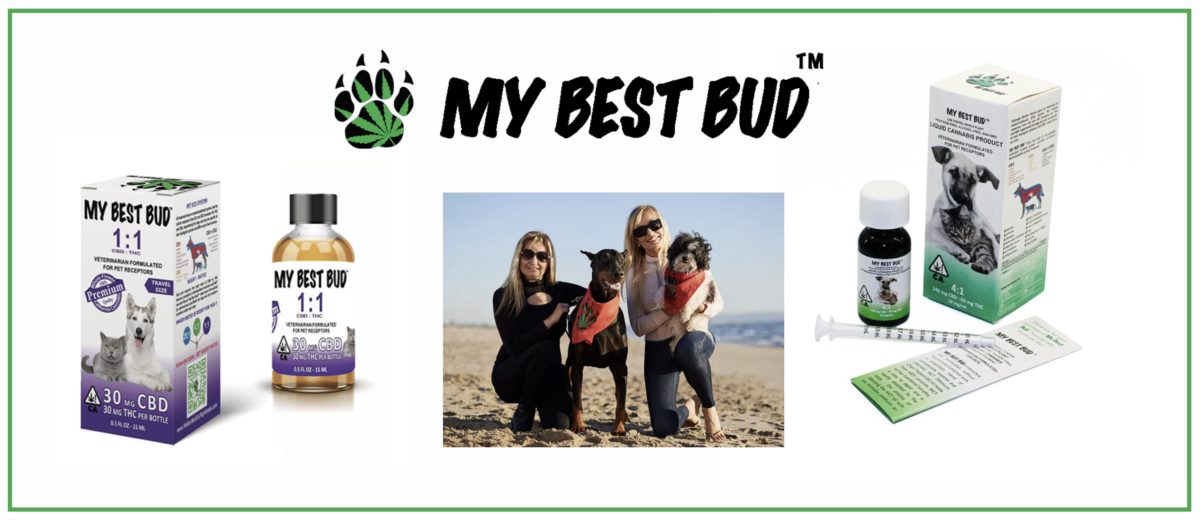 This women-owned brand makes products just for dogs and cats. My Best Buds offers precisely-dosed tinctures that will help your furry friend with anxiety and stress.
Both founders are serial entrepreneurs, with backgrounds in aerospace engineering, law, and medical fields. Leading the way in cannabis research, the founders hope the science used to create their products will be used to advance medical cannabis research, for humans and for pets! Their piece of advice for women who want to work in cannabis? "Move quickly, and be flexible. The industry moves at the speed of light." Read more about My Best Bud here.
Our favorite products from My Best Bud are three different formulated ratios of CBD-dominant oils for pets.
20:1 – Ideal for light-weight pets with small amounts of stress and just getting started with CBD.
4:1 – Great for pets with high anxiety during the holiday season, or in general.
1:1 – Fantastic for traveling with pets, since both THC and CBD work together to fully calm the body.
JUNIPER 
Juniper is a woman-owned second-generation family farm in Humboldt packaged in glass and beautiful artisan tins. Best known for its smooth pre-rolls, this brand is great for beginners. These airy joints have a low THC content.
The way Juniper grows their plants offer great trichomes with rich terpenes, allowing the flower to burn softly and smoothly. In addition, the packaging is compact and easy to recycle. Read more on Juniper's story here.
A few delightful strains we carry from Juniper at The Higher Path.
Super Lemon Haze 5-Pack – These 5 pre-rolls are great for an eventful weekend. With limonene as the primary terpene, this Sativa lightens the mood and offers an awakened feeling.
Green Crack mini 5-Pack – The size of these pre-rolls is what makes them ideal for the solo smoker. Smoke before dancing, studying, and even doing laundry and you'll find great pleasure and focus in all.
Wedding Cake 2-Pack – Wedding Cake's terpene profile is primarily myrcene and humulene, making it an Indica dominant strain. Great to unwind with a movie and ease into a good night's rest.
YUMMI KARMA
This incredibly diverse company is run by women CEO and COO, Krystal and Chelsea. This brand focuses on creating products for people and lifestyles, paying careful attention to marginalized problems. Yummi Karma was the first state-licensed manufacturer in Orange County. They are especially known for making products for women, by women. Their team is actively working on creating Southern-California's first "boutique-style" cannabis retailer for women. Learn more about Yummi Karma here.
Here are some of Yummi Karma's delicious tinctures.
Drift Away: This bedtime elixir is the perfect companion for a good night's sleep. Active ingredients such as THC, Lavender, Chamomile, and Melatonin make this tincture potent for anyone having trouble falling asleep.
Mood Magic: The perfect go-to for menstrual cramps. As a monthly reliever, this tincture contains a PMS formula, boosting mood and promoting uterine health. The oil is infused with MCT, THC, Maca Root, Eleuthera, Dandelion Root, and Raspberry Leaf for a sweet flavor.
Cloud Nine: This CBD-dominant tincture is most commonly used for mind and body wellness. The 4:1 ratio is most popular for people with anxiety.
COSMIC VIEW
Cosmic View is a family-owned company, daughter and mother to be precise. Nicole Skibola is an artist, writer, and cancer survivor. Her mother, Christine Skibola, is a UC Berkeley professor and an internationally known cancer researcher. This hard-working duo put together the well-known and respected brand, Cosmic View.
Nicole and Christine launched Cosmic View as a marriage between science, art, and the California Lifestyle. Their products are made especially for women's needs, making delicate moments easy to get by with. Read more about Cosmic View here.
Here are a few of our Cosmic View favorites:
3:1 Restore Tincture- ​3:1, making it ideal for daytime use for work or simple tasks. What we love most about this tincture is its ability to make the body feel whole.
Viva La V – The vaginal balm is specifically designed to protect, rejuvenate, replenish, and repair tender skin. The balm is made with olive oil, coconut oil, vitamin E, and shea butter. Combined with CBD, its anti-inflammatory properties are very potent.
Slumber Tincture – With THC as the dominant cannabinoid. This tincture works best for kicking back and simply relaxing.
KUSH QUEEN
The Kush Queen product line includes award-winning bath bombs, pain relief lotions, edibles, wellness supplements, and skincare. With such a diverse product-line, Kush Queen focuses on wellness and the healing effects of cannabis.
The founder of the successful company is Olivia Alexander. ​As a voice for progressive change and women's industry inclusion, Olivia was recognized as Dope Magazine's "2017 Social Media Influencer of the Year" and was called "The Mariah Carey of Weed" by Elle. Read more on Kush Queen here.
Some popular Kush Queen products include:
THC Makeup Primer – This primer is perfect to reduce redness, prevent breakouts and leaves your skin velvety soft. Let the cannabinoids work for you, under your make-up.
1:3 Soaked Body Wash – This body wash is great for muscle pain, body aches, inflammation, skin issues. With citrus essential oils, your body will feel fresh and relaxed after using this beautiful product.
Glow in the Dark Bath Bomb – The Glow 1:1 Relax Bath Bomb was created to relax the body, help stabilize the mood, and take your glow-up to the next level. A beautiful blend of Lavender, Chamomile, and Frankincense come together to assist in the relief of anxiety, stress, and inflammation while giving your immune system the healthy boost it needs.
GARDEN SOCIETY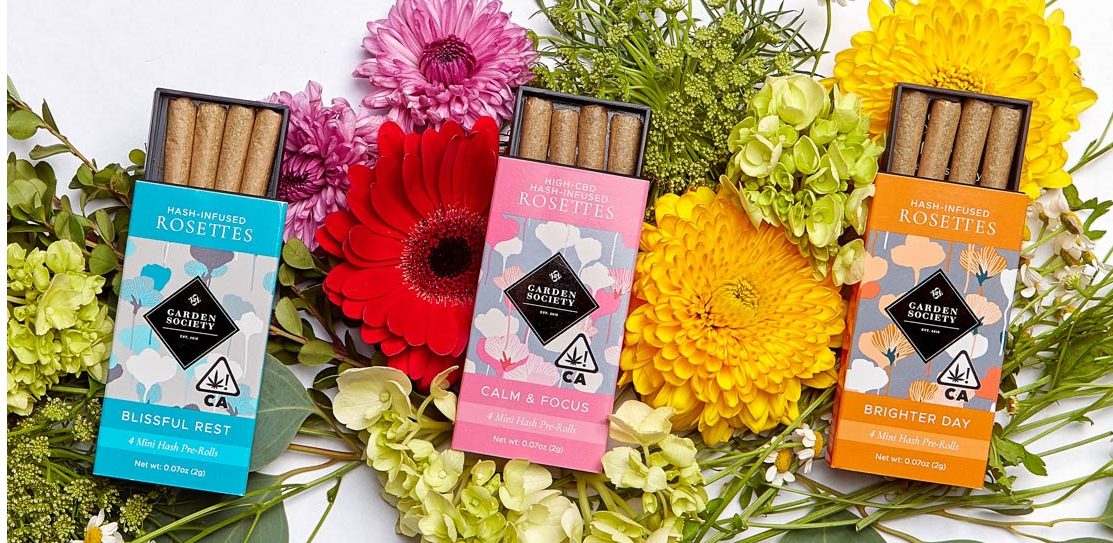 Garden Society is another perfect example of women's stellar influence in cannabis. Founder Erin Gore is a fearless advocate for women-owned cannabis businesses and equally dedicated to breaking the stigma and rewriting the script around the plant. Her co-Founder, Karli Warner is a working mother and wife to a cancer survivor. She knows the positive impact that low-dose cannabis can have on the mind, body, and soul.
Together, they have founded a meticulous and well-respected company, Garden Society, that offers nothing but beautifully crafted edibles and pre-rolls. The company is an advocate for using sustainable and safe ingredients in the making of its products. This brand is a great place to start for the canna-curious. Read more on Garden Society here.
Here are some of our favorite Garden Society products.
Calm & Focus high CBD Pre-rolls – These Hash Infused Rosettes offer calm in the high-CBD flower and a focused body high from the hybrid hash. Great for the most stressful days.
Spiced Vegan Dark Chocolate – Rich dark chocolate paired with Ceylon cinnamon and a touch of chile. Infused with a Sativa strain to lighten your mood for a brighter day.
Sativa Rosettes Pre-rolls -These mini pre-rolls prove an uplifting yet mild effect, perfect for a brighter day. The size and strength are perfect for anyone looking for a light effect.
KIKOKO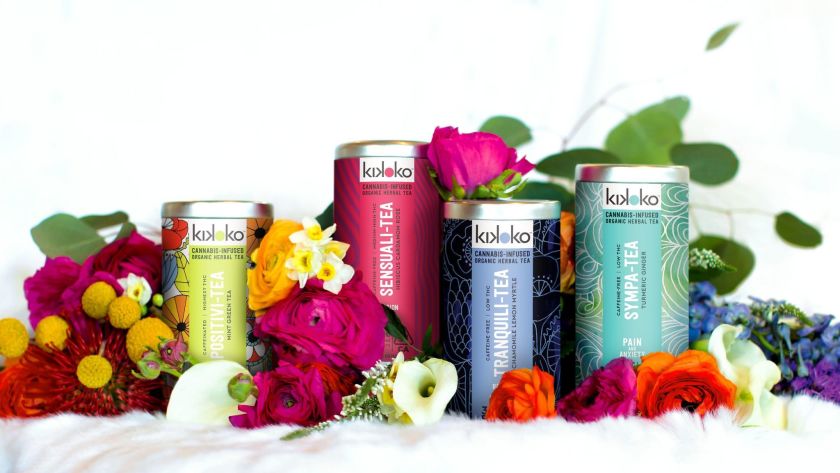 Started by two women entrepreneurs in the Bay Area, Kikoko is a women-led California cannabis brand at the forefront of the culinary cannabis revolution. They serve edible THC and CBD products, notable tea and honey sticks. Kikoko targets certain feelings with their products. They also focus on their impact on the planet. Their tea bags are compostable and don't carry any microplastics. Learn more about Kikoko here.
Our favorite Kikoko products:
Honey Shot 1:1 – This honey stick is a perfect pair with warm tea. The 1:1 ratio is THC and CBN, making it ideal for falling and staying asleep.
Sensuali-Tea- This tea is designed to boost libido and intensify orgasm. Studies have shown that moderate doses of THC can have an aphrodisiac effect, particularly for women (high THC can have the opposite effect).
Positivi-Tea – Positivi-Tea is Kikoko's strongest THC blend with a 2:1 ratio of THC to CBD. This formula can provide relief from feelings of anxiety and stress and bring on more joy and laughter.